1. Stable quality of the product with CE/ROHS certification
2. Most competitive price in the industry
3. Shorten the production lead time to help you cover the market demand
4. OEM service is available
5. Prompt response on any inquiry.
6. One stop service which is to produce and find you everything you need.
Introducing our cutting-edge keypad smart lock with fingerprint recognition, the pinnacle of home security technology. Say goodbye to traditional keys and embrace the convenience and enhanced protection offered by this state-of-the-art electronic door lock. With its sleek design and advanced features, our smart keypad locks ensure seamless access control, giving you peace of mind and hassle-free entry.
Welcome to a new era of secure, easy home entry. Our keypad smart lock with fingerprint recognition is designed to revolutionize the way you secure your home. Gone are the days of fumbling for keys or worrying about them being lost or stolen. With our innovative technology, you can enter your home with just the touch of a finger. An advanced fingerprint recognition system ensures that only authorized personnel have access, providing you with maximum security and peace of mind. 
Our keypad smart locks are equipped with smart features and provide multiple ways of entry for the convenience of you and your family. In addition to fingerprint recognition, you can choose to use the keypad to enter a unique code or just use traditional keys, providing flexibility for different preferences or situations.
The illuminated keyboard ensures easy and accurate typing even in low-light conditions, further enhancing the user experience. 
Designed with style and function in mind, our keypad smart locks integrate seamlessly with any home decor. Elegant and modern design with a stylish handle that not only adds sophistication to your door, but also has a strong, comfortable grip that is ergonomic and easy to use. Durable construction ensures long-lasting performance, ensuring your home will stay safe for years to come. 
With our keypad smart lock, installation is a breeze. It can be easily retrofitted to most standard doors without costly and time-consuming modifications. The user-friendly interface and clear instructions allow for quick and easy setup, saving you valuable time and effort. But convenience isn't limited to the front door. Our keypad smart locks also offer remote access via a mobile app, allowing you to control and monitor your lock from anywhere. Forgot to lock the door before leaving? no problem. With just a few taps on your smartphone, you can easily secure your home for peace of mind. 
In conclusion, our keypad smart lock with fingerprint recognition is the epitome of home security technology, combining electronic convenience, advanced features and smart design. With its seamless access control, sleek aesthetics and easy installation, it revolutionizes home entry and takes your security to new heights. Welcome to the future of smart, easy, and secure home access.
1. Enhanced Security: Our silver and black keypad password smart lock offers advanced security features to keep your property safe.
2. Sleek and Modern Design: Designed with a sleek silver and black color scheme, our keypad password smart lock seamlessly blends with any decor.
3. Top Convenience: Different ways to unlock including fingerprint, password, card and key.
4. Remote Access Control: Through a selected smartphone application, you can manage access to your property from anywhere in the world.
5. Battery Backup and Low Power Consumption: Our keypad password smart lock consists of a high-quality battery backup system.
Smart locks have versatile applications, enhancing security and convenience in homes, offices, and rental properties. They allow keyless entry via smartphone, grant temporary access to guests or service providers, and provide remote monitoring and control, revolutionizing the way we secure and manage access to our spaces.
Q: What App does this smart lock support?
A: We have both Tuya App version and TT App version. You could choose one of them when purchasing.
Q: Is the fingerprint recognition really safe?
A: We uses semi-conductor for our lock, recognizes only living fingerprint, brings topmost security for your home.
Q: Can I have my own customized design for the product & packaging?
A: Yes, OEM service is available in our company. Send your design to us and get your enquiry.
Q: Can I get some samples before placing bulk order?
A: Yes, please feel free to contact us and provide specific details about the type of lock you are interested in.
Q: Do you guarantee safe and reliable delivery of products?
A: At all times, we prioritize the utilization of top-notch packaging materials for our shipping services.
Q: Do you have a warranty on your product?
A: Yes, we have a 2 years warranty for our products.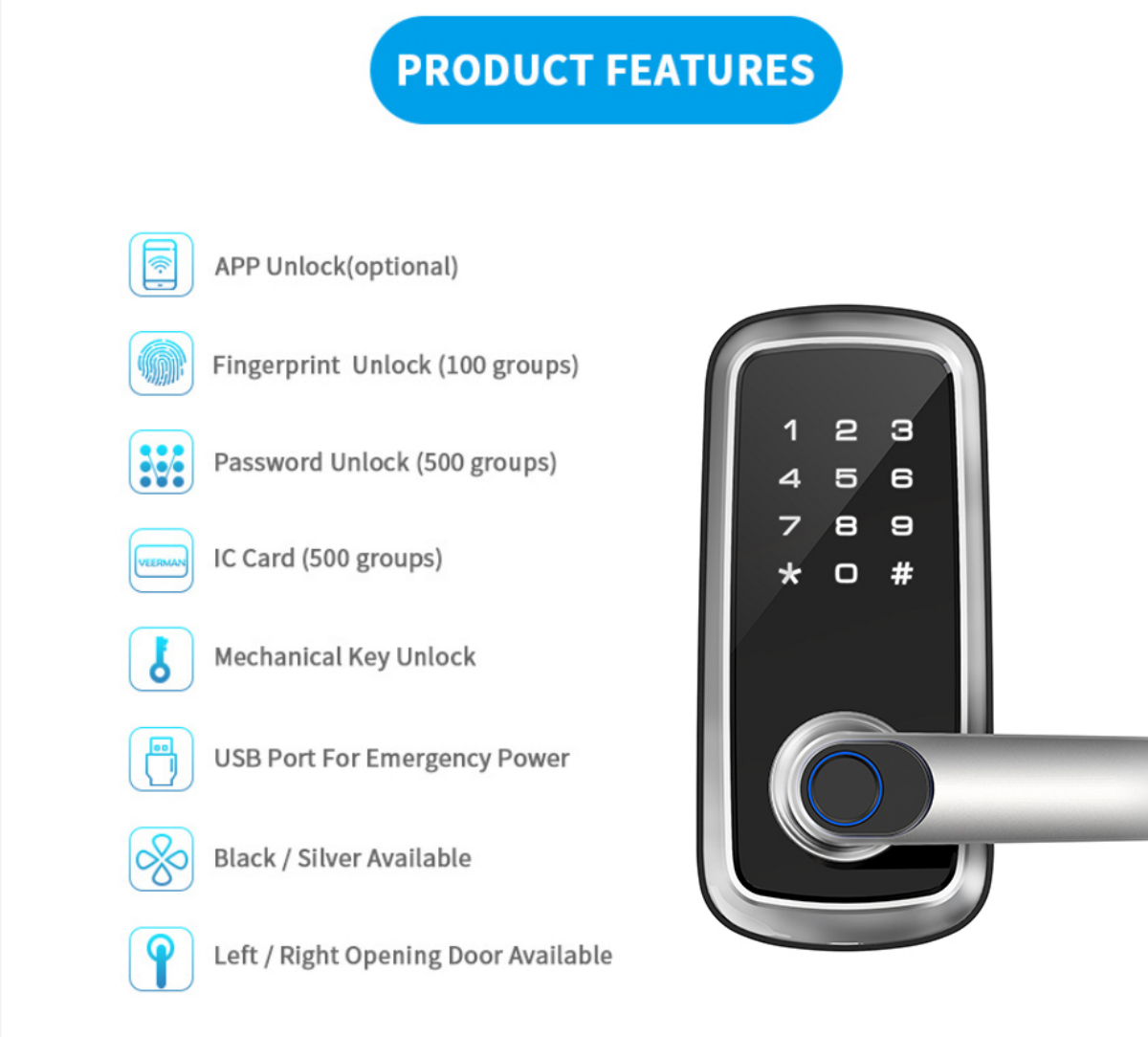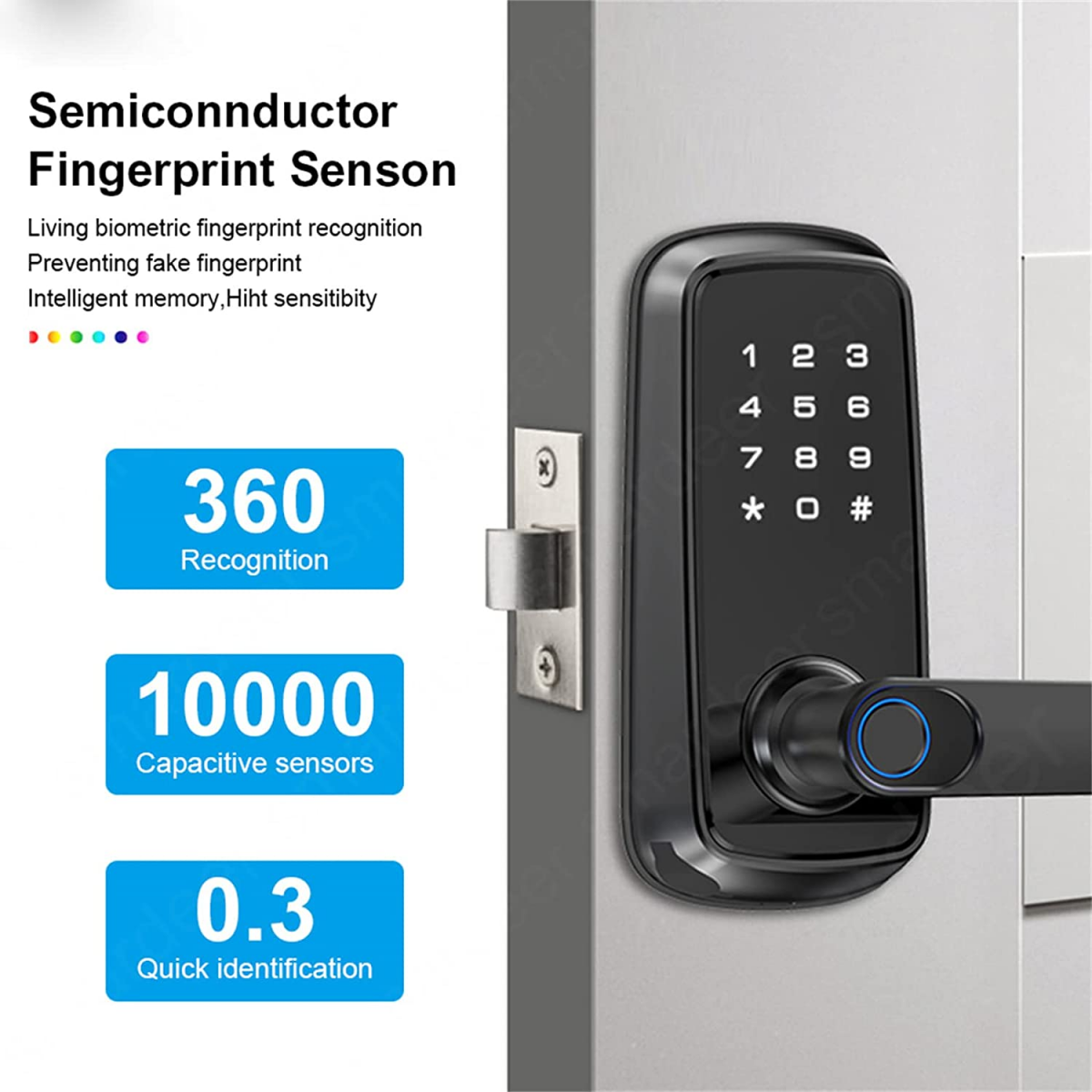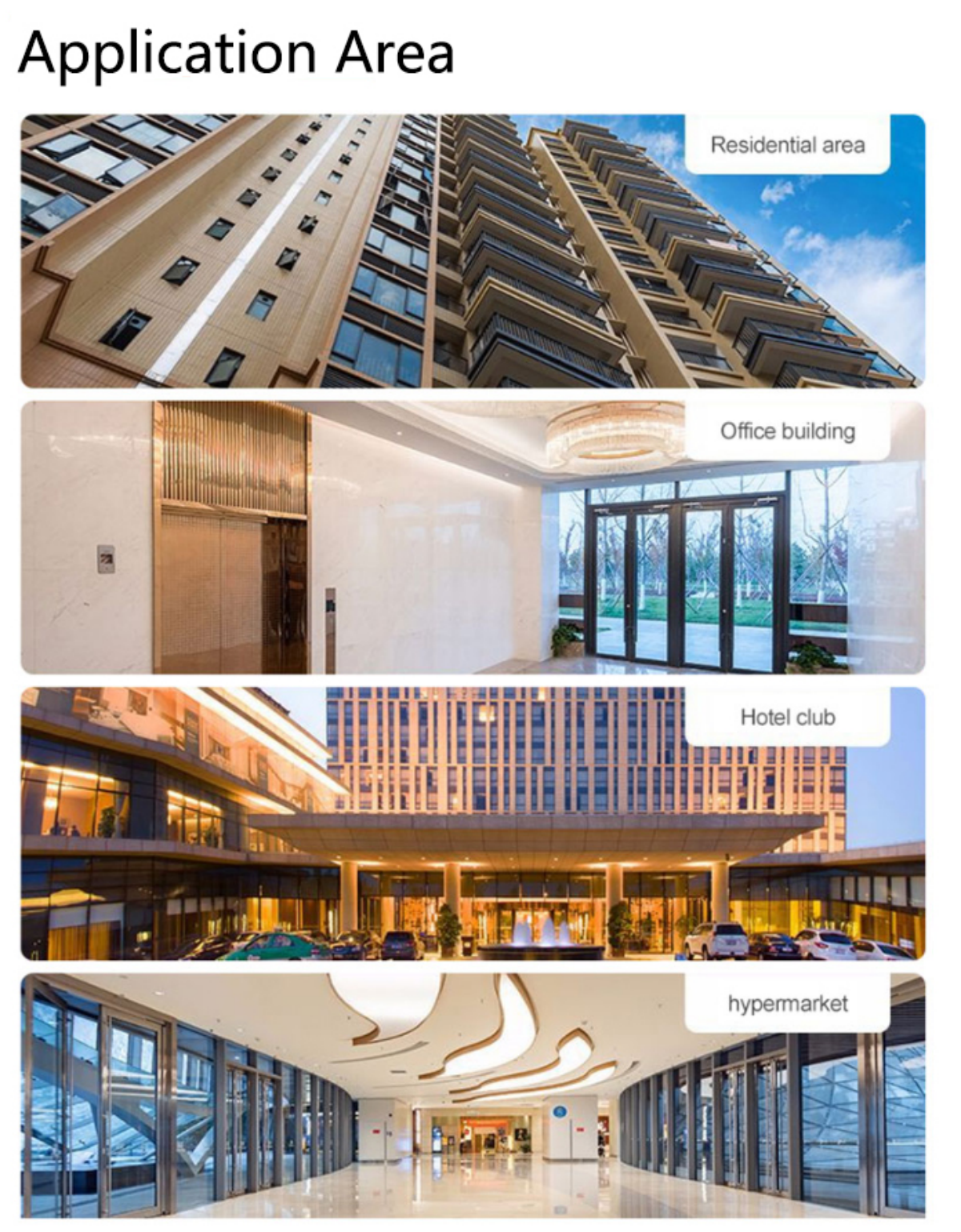 | | |
| --- | --- |
| Product name | Model J01 |
| Unlock way | Password, Card, Key, Fingerprint, APP unlock. |
| Communication: | WIFI/Bluetooth |
| Materials | Zinc alloy/Plastic |
| Accept door thickness | 38-55mm smart lock |
| Power supply | 4 x AA dry batteries (not included) |
| Opening Direction | Universal |
| Password | 100 |
| Card | ≤100 |
| Key | ≤2 |
| Fingerprint | 100 |