1. Stable quality of the product with CE/ROHS certification
2. Most competitive price in the industry
3. Shorten the production lead time to help you cover the market demand
4. OEM service is available
5. Prompt response on any inquiry.
6. One stop service which is to produce and find you everything you need.
Introducing our most advanced smart lock, the ultimate solution for high security, convenience and peace of mind. This smart door lock features cutting-edge technology and a host of smart features designed to provide maximum protection for your home or business.
One of the key features of this smart lock is its advanced facial recognition technology. By recognizing your unique facial features, it ensures fast, contactless access to your premises. No more fumbling for keys or struggling with the keyboard. With just one glance, the lock recognizes you and grants you access instantly. This not only provides a seamless user experience, but also enhances security by eliminating the risk of unauthorized access.
In addition to facial recognition, this smart lock also offers fingerprint recognition. This biometric security feature allows only authorized personnel to unlock the door, adding an extra layer of protection against theft and unwanted intrusion. With your fingerprint as the key, you can rest assured that only trusted people have access to your property.
For those who prefer a more traditional approach, this smart lock also includes password unlocking. Whether you choose to enter a numeric code or rely on the convenience of facial or fingerprint recognition, the choice is yours.
Our smart locks are designed to integrate seamlessly with your existing smart home system. With its simple installation process, it can be installed quickly on standard doors without any special tools or expertise. Once installed, it connects to your Wi-Fi network, allowing you to control and monitor the lock remotely from your smartphone or other smart device. You can receive instant notifications and keep track of who enters or leaves your premises.
When it comes to security, our smart locks are at the forefront of innovation. Its cutting-edge biometric features provide a higher level of security than traditional locks. This ensures that only authorized personnel can open the door, giving you peace of mind and protecting your property from potential threats.
Take security to the next level with our smart, automatic, keyless door locks. Experience the convenience of touchless access, the peace of mind of enhanced security features, and seamless integration with smart home systems. Invest in the future of home security with our advanced smart locks.
Biometric Security: Advanced facial recognition technology enables secure, touchless access.
Fingerprinting: Enhance security by fingerprinting authorized personnel.
Multiple unlocking options: convenient face recognition or password input to unlock.
Enhanced Security: Cutting-edge biometric features allow for a higher level of security. EASY INSTALLATION & COMPATIBILITY: Installs easily on standard doors and integrates seamlessly with existing smart home systems.
| | |
| --- | --- |
| Product name | Smart Entry Front Lock |
| Unlock way | Fingerprint, Face, Password, Card, Key, APP unlock. |
| Battery | 1*Rechargeable Lithium Battery |
| Material | Zinc Alloy |
| Accept door thickness | 40-120mm  |
| Finger Print sensor | Semiconductor FPC1011F |
| Fingerprint | 150 sets |
| Password | 150 sets |
| Card | ≤100 |
| Key | ≤2 |
| Lock Core Level | C – Class Lock Core |
| Rejection Rate | ≤0.1% |
| Error Rate | ≤0.0001% |

Our smart door handle are used for keyless entry and enhanced security in residential, commercial, and hospitality settings. They provide convenience, remote access management, and integration with access control systems, improving access control and monitoring capabilities.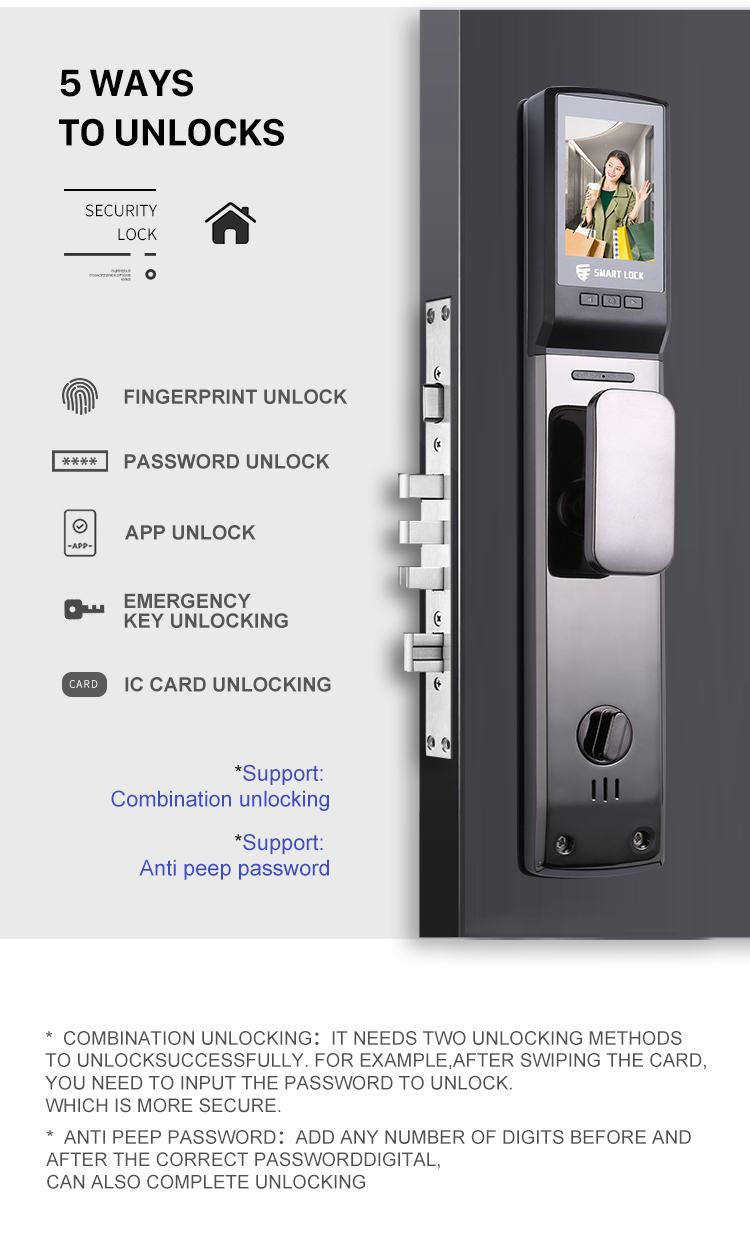 Q: How does the fingerprint recognition feature work?
A: The fingerprint recognition feature on the lock allows you to register your fingerprint and use it as a method of unlocking the door. Simply place your registered finger on the fingerprint sensor and the door will unlock.
Q: What happens if the power goes out?
A: In case of a power outage, the P8 smart door lock is equipped with a backup power supply. You can still use the mechanical key to unlock the door and gain access to your home.
Q: Can I have my own customized design for the product & packaging?
A: Yes, OEM service is available in our company. Send your design to us and get your enquiry.
Q: Can I get some samples before placing bulk order?
A: Yes, please feel free to contact us and provide specific details about the type of lock you are interested in.
Q: Do you guarantee safe and reliable delivery of products?
A: At all times, we prioritize the utilization of top-notch packaging materials for our shipping services. Our commitment extends to employing special dangerous packaging for items carrying hazardous elements, as well as certified refrigerated shippers for goods that require temperature control. It is important to note, however, that the implementation of specialized or non-standard packaging may result in additional costs.
Q: Do you have a warranty on your product?
A: Yes, we have a 2 years warranty for our products.