1. Stable quality of the product with CE/ROHS certification
2. Most competitive price in the industry
3. Shorten the production lead time to help you cover the market demand
4. OEM service is available
5. Prompt response on any inquiry.
6. One stop service which is to produce and find you everything you need.
Looking for a high-tech, safe and convenient way to protect your home? Smart door lock PM12 is your best choice!
This innovative door lock offers a range of advanced features, making it the perfect choice for anyone who values ​​top-notch security and ease of use.  Forget traditional keys - with the PM12, you'll have all kinds of unlocking methods at your fingertips. From fingerprint recognition and password entry to ID card and face recognition, you never have to worry about lost or misplaced keys again.
Plus, you can easily manage your locks remotely through the Tuya mobile app, giving you even more control over your home security.  The PM12 also features a responsive touchscreen digital pad and is fully compatible with the Tuya app. If you need to allow others to access your home while you're away, the PM12's offline code sharing feature can meet your needs.  Security is a top priority on the PM12, which comes with a Scramble PIN. This feature allows you to enter random numbers before and after your real password, keeping your home safe from prying eyes and unwanted intruders.  
Whether you're a busy professional, a parent with young children, or just want the peace of mind of knowing your home is safe, the PM12 smart door lock is perfect for you. So why wait? Get the PM12 today and experience the ultimate in home safety and convenience!
1. Access via App/Fingerprint/Code/Card/Mechanical Key/.
2. High sensitivity of touchscreen digital board.
3. Compatible with Tuya App.
4. Share codes offline from anywhere, at anytime.
5. Scramble pin code technology to anti-peep.
| | |
| --- | --- |
| Product name | Smart door lock PM12 |
| Unlock way | Fingerprint, Password, Card, Key, APP unlock. |
| Dynamic current | ≤320mA |
| Material | Zinc Alloy |
| Accept door thickness | 35-50mm smart lock |
| Power Supply | 4600mA Lithium cell |
| Finger Print sensor | Semiconductor FPC1011F |
| Fingerprint | 150 sets |
| Password | 150 sets |
| Card | ≤100 |
| Key | ≤2 |
| Resolution | 500Dpi |
| Rejection Rate | ≤0.1% |
| Error Rate | ≤0.0001% |

Aulu PM12 ensures keyless entry and enhanced security in various settings like homes, businesses, and hotels. It offers convenience, remote access management, and integrates with access control systems for improved monitoring and control.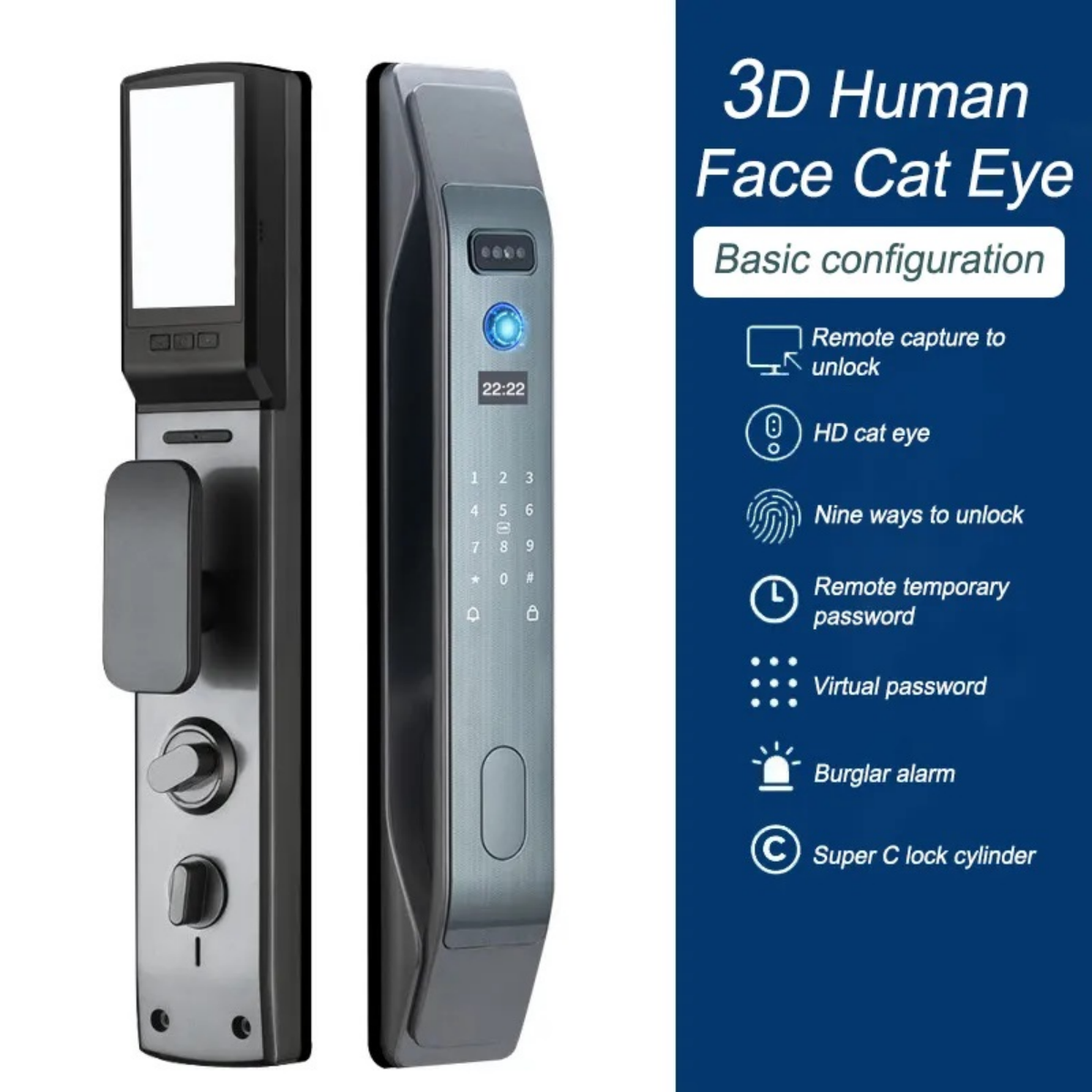 Q: Is there a provision for emergency power in case of battery failure?
A: Yes, the smart lock features a USB emergency power port. This means that in case the batteries completely run out, you can use an external power source, such as a power bank, to supply electricity to the lock and gain access.
Q: Is the installation of this smart lock complicated?
A: The installation process of this smart lock is typically straightforward and user-friendly.
Q: Can I have my own customized design for the product & packaging?
A: Yes, OEM service is available in our company. Send your design to us and get your enquiry.
Q: Can I get some samples before placing bulk order?
A: Yes, please feel free to contact us and provide specific details about the type of lock you are interested in.
Q: Do you guarantee safe and reliable delivery of products?
A: At all times, we prioritize the utilization of top-notch packaging materials for our shipping services. Our commitment extends to employing special dangerous packaging for items carrying hazardous elements, as well as certified refrigerated shippers for goods that require temperature control. It is important to note, however, that the implementation of specialized or non-standard packaging may result in additional costs.
Q: Do you have a warranty on your product?
A: Yes, we have a 2 years warranty for our products.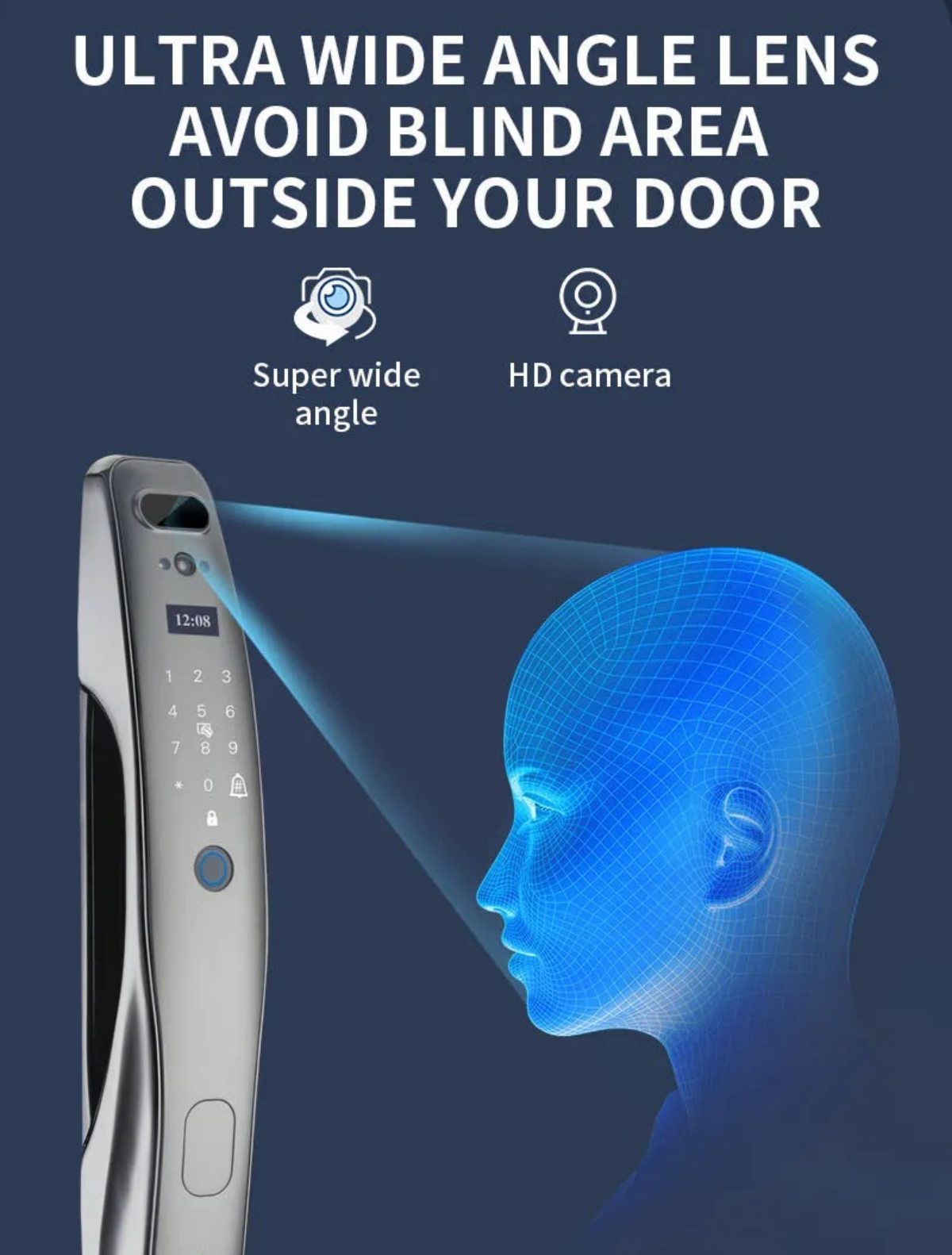 Our latest innovation is the smart door lock PM12 that offers a variety of access control methods, including fingerprint, app, password, and key. This biometric door lock is designed to provide the highest possible security for your home or office.  
PM12 is installed with a face recognition camara with wide angle. Quick unlock with faces of no matter children or the elderly.