1. Stable quality of the product with CE/ROHS certification
2. Most competitive price in the industry
3. Shorten the production lead time to help you cover the market demand
4. OEM service is available
5. Prompt response on any inquiry.
6. One stop service which is to produce and find you everything you need.
Introducing our cutting-edge black design smart lock, the pinnacle of security and convenience. Blending beauty and function, this state-of-the-art lock provides unparalleled access control.
Our smart locks are at the forefront of modern technology, incorporating state-of-the-art facial recognition, ultra-secure fingerprint semiconductor unlocking and password entry, providing a triple authentication method. With these advanced features, you can be confident that your access controls are robust and reliable.
One of the outstanding features of our smart locks is its multi-modal authentication system. This means you can choose the authentication method that works best for you. Whether using facial recognition, fingerprint unlock, or a password, you have the flexibility to customize your access control experience.
Our smart lock comes in a sleek black design that adds a touch of sophistication to any setting, whether it's a home or an office. The design coordinates seamlessly with any decor, creating a blend of style and function. With this smart lock, you can increase your security without compromising on aesthetics.
Enhanced facial recognition technology takes security to a new level. Our smart locks use advanced algorithms to ensure accurate and reliable facial recognition. This means only authorized individuals have access to your space, giving you peace of mind that your belongings are safe.
Another notable feature of our smart lock is its highly secure fingerprint semiconductor unlocking. The lock stores encrypted fingerprint data within its system, ensuring that only registered fingerprints can be unlocked. This technology provides an extra layer of security because each person's fingerprint is unique.
Our smart locks also include passcode entry as an additional authentication method. This provides the traditional alternative for those who prefer to remember passwords. Combined with face recognition and fingerprint unlocking, password entry adds extra convenience to users.
In addition to multiple authentication methods, our smart locks can also be unlocked with a physical key. This provides a backup option in case of any technical failure or emergency. Our smart locks put your security first by providing multiple access methods.
In order to make your access control experience more convenient, our smart locks are compatible with the Tuya App. Using this app, you can control and monitor your lock remotely and grant access to authorized personnel even when you are not there. Tuya App also allows you to customize access rights and track access logs, allowing you to fully control the security of your space.
With our cutting-edge black design smart locks, you can rest assured that your security is well secured. Its multi-modal authentication, sleek black design, enhanced face recognition, highly secure fingerprint semiconductor unlock, and customizable access control features make it the pinnacle of modern security technology. Improve your safety while adding a touch of elegance to your space. Protect your environment with our smart locks.
We are your best choice of Ironmongery manufacturer in China. We offer extensive range of door locks and hardware at a reasonable price with advanced security.
Fast delivery · OEM/ODM service available · Unbeatable Prices · 2 years warranty· One stop lock solution
1. Multi-Mode Authentication
2. Sleek Black Design
3. Enhanced Face Recognition
4. Highly Secure Fingerprint Semiconductor Unlock
5. Customizable Access Control
| | |
| --- | --- |
| Product name | Smart door Handle |
| Unlock way | Fingerprint,Face, Password, Card, Key, APP unlock. |
| Battery | 4200mh |
| Material | Aluminum Alloy |
| Accept door thickness | 35-55mm smart lock |
| Finger Print sensor | Semiconductor FPC1011F |
| Fingerprint | 150 sets |
| Password | 150 sets |
| Card | ≤100 |
| Key | ≤2 |
| Lock Core Level | C – Class Lock Core |
| Rejection Rate | ≤0.1% |
| Error Rate | ≤0.0001% |

Our smart door handle are used for keyless entry and enhanced security in residential, commercial, and hospitality settings. They provide convenience, remote access management, and integration with access control systems, improving access control and monitoring capabilities.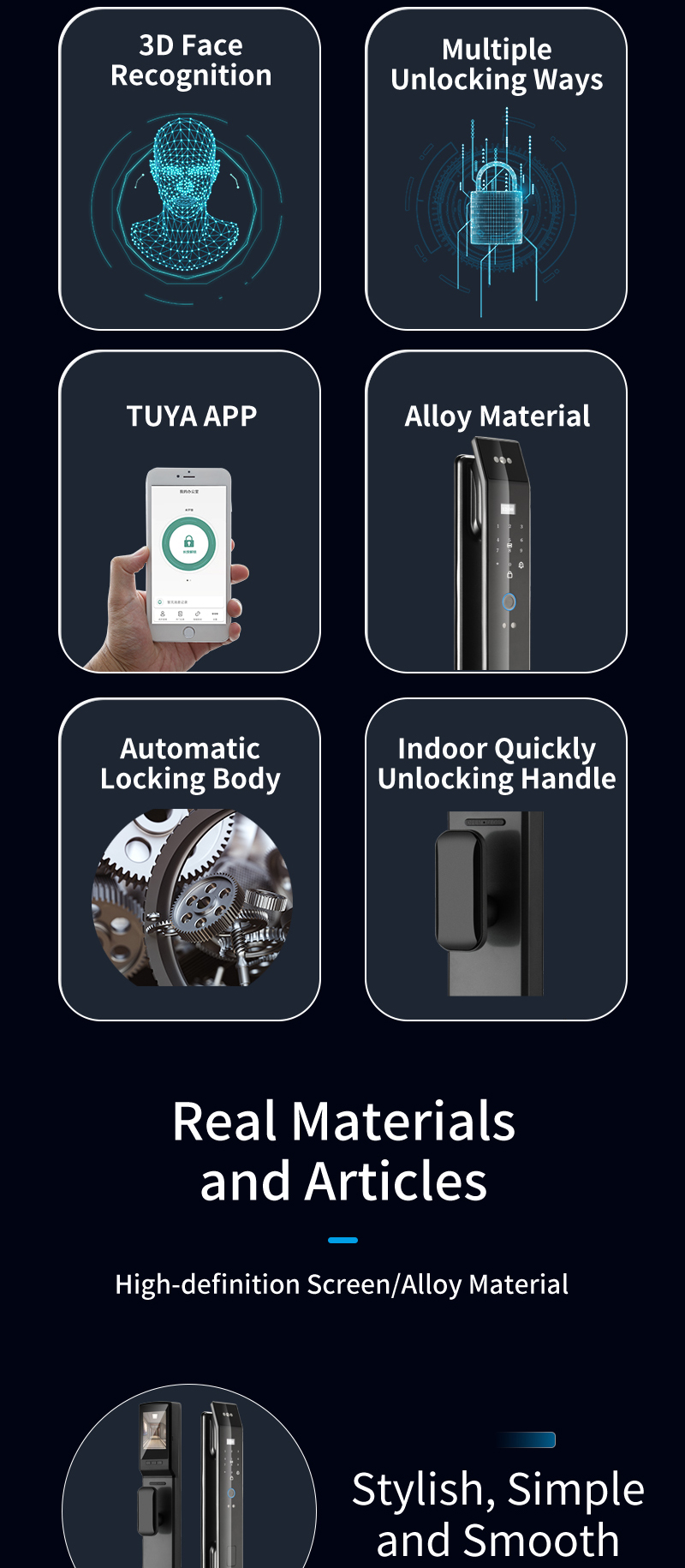 Q: How does the fingerprint recognition feature work?
A: The fingerprint recognition feature on the lock allows you to register your fingerprint and use it as a method of unlocking the door. Simply place your registered finger on the fingerprint sensor and the door will unlock.
Q: What happens if the power goes out?
A: In case of a power outage, the P8 smart door lock is equipped with a backup power supply. You can still use the mechanical key to unlock the door and gain access to your home.
Q: Can I have my own customized design for the product & packaging?
A: Yes, OEM service is available in our company. Send your design to us and get your enquiry.
Can I get some samples before placing bulk order?
A: Yes, please feel free to contact us and provide specific details about the type of lock you are interested in.
Q: Do you guarantee safe and reliable delivery of products?
A: At all times, we prioritize the utilization of top-notch packaging materials for our shipping services. Our commitment extends to employing special dangerous packaging for items carrying hazardous elements, as well as certified refrigerated shippers for goods that require temperature control. It is important to note, however, that the implementation of specialized or non-standard packaging may result in additional costs.
Q: Do you have a warranty on your product?
A: Yes, we have a 2 years warranty for our products.